Crafted to ensure the utmost flexibility and ease of integration, our Platinum solutions offer domain-specific collateral and unparalleled expertise tailored to your unique requirements. 
These business-focused solutions meld seamlessly into your current data ecosystem, leveraging your existing data integration components wherever possible.
What we do
For over 30 years, organizations have used a "left to right" approach to integrate their data.
Data is first acquired from many different data sources

(the left side)

.

It's then transformed into an enterprise data warehouse or into smaller, focused data marts.

Finally, an attempt is made to determine what the business needs to do with their data. By this stage, it's typically far too late.
Our Platinum solutions offer a 180-degree different approach:
We start by understanding the specific needs of each

department

(the right side)

.

By leveraging our extensive collection of ready-to-use tools such as pre-built data models and business rules that are designed for specific industry domains and business areas, we can do this with unparalleled speed.

We don't reinvent the wheel every time. Instead, we use what you've already implemented wherever possible, ensuring you quickly satisfy departmental needs while also establishing an enterprise analytics platform.
Where do our Platinum Solutions fit in today's emerging platforms?
Powerful new technology platforms are emerging on an ever-faster basis.  It's a daunting task to keep up with all of them, much less determine how you should leverage them or even whether you should do so. 
 Our Platinum solutions eliminate the need for you to be concerned about these new technological waves.  Our commitment to you is that we will connect to any source and any target.  Period.
A simple depiction of where our Platinum Solutions fit within the powerful new arena of Data Fabric platforms is provided below: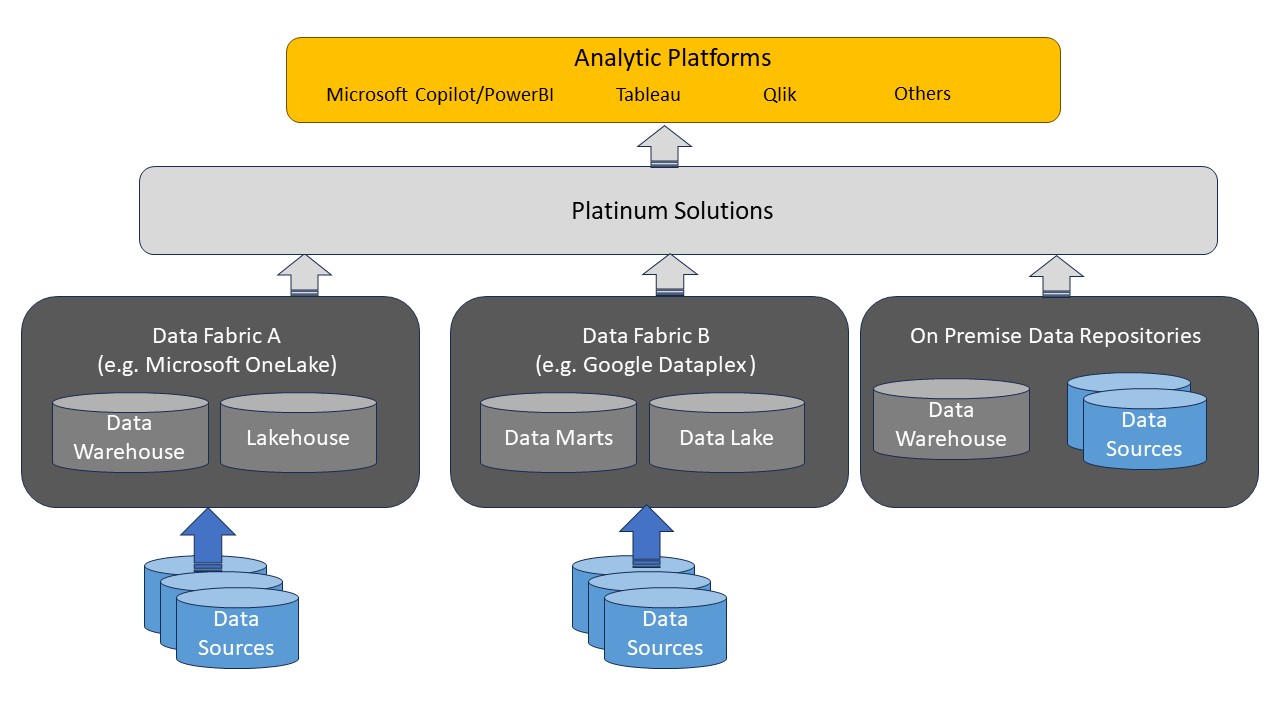 Benefits to You
Despite any marketing hype to the contrary, your enterprise data assets need to be carefully crafted to ensure you have the analytic capabilities that are most important to your organization. These capabilities include having access to historical data, or the ability to perform drill-down analytics, and many others.
We don't just provide access to raw data but rather useful information. That's the true value proposition for our Platinum solutions.
Tangible benefits to your organization include the following:
Quickly satisfies departmental analytic requirements while also maintaining the enterprise "data plumbing" behind the scenes.

Ensures a single "Platinum" source of truth across all business areas by aligning data sources and analytics requirements.

Offers enterprise metrics that can be easily understood, shared, and governed along with the ability create additional departmental-specific metrics.

Provides departments with the flexibility to incorporate alternate data sources and definitions.

Facilitates integration of

any

data source into the metric building process.

Enables consumer (e.g., patient, member, customer, etc.) engagement and intervention by aligning data from many diverse sources.

Supports industry specific benchmarking and regulatory reporting requirements.
Our Platinum solutions are custom-designed for swift deployment to meet your departmental business requirements and effortlessly integrate into your current data ecosystem. Easily tailor your next step to your specific needs on our flexible Call to Action page, where you can sign up for more information, schedule a brief Discovery session, or schedule a demonstration.